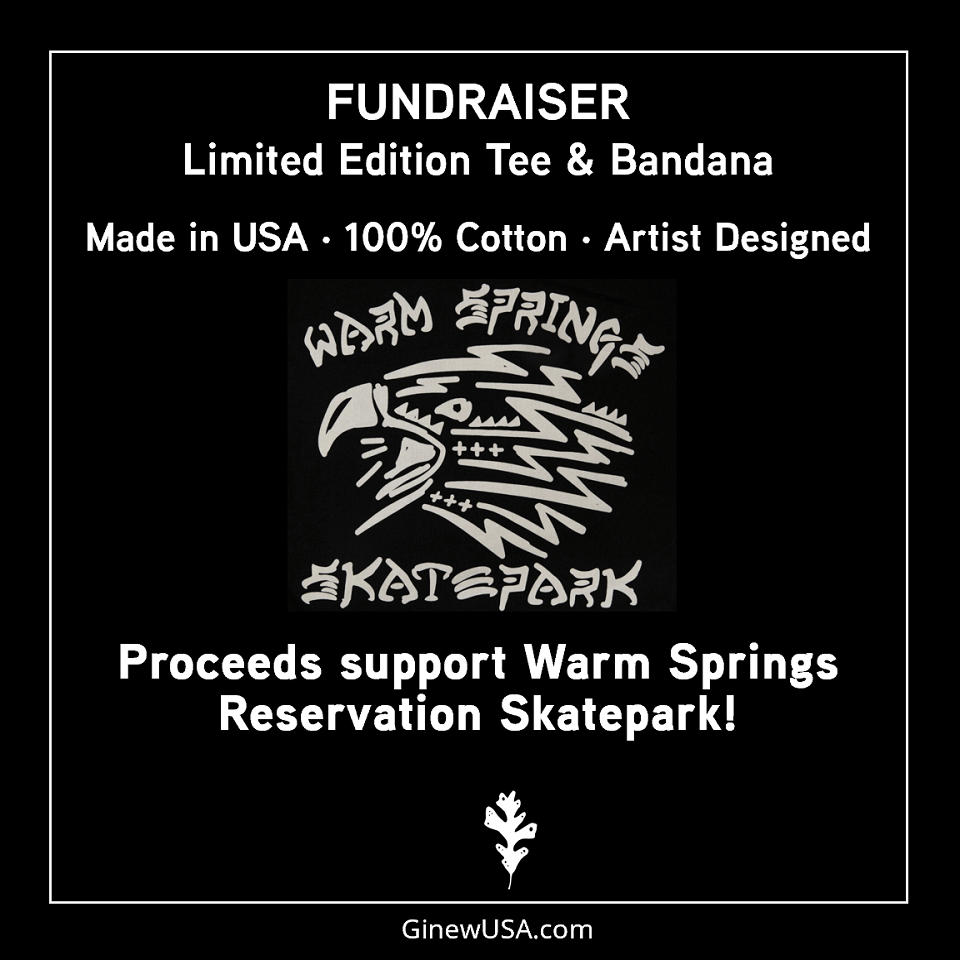 Warm Springs Skate Park Tee
Regular price
$55.00
Sale price
$38.50
/
---
---
NATIVE AMERICAN DESGINED + FUNDRAISER + MADE IN USA

The Skatepark Project, founded by legendary skateboarder Tony Hawk, has partnered with us on a limited edition t-shirt and bandana. Proceeds support the creation of a re-designed skatepark on the Warm Springs Indian Reservation in Central Oregon. The goal of this project is to raise awareness of the positive impacts of skateboarding in the lives of youth while providing a space that further supports skateboarding within the Confederated Tribes of Warm Springs. By rebuilding the Warm Springs Skatepark, we aim to work with the Warm Springs Tribe to create a more inviting space for skateboarders and other members of the community to connect. 
The limited edition Ginew + Steven Paul Judd "Warm Springs Skatepark" bandana was created in collaboration with artist Steven Paul Judd (Kiowa + Choctaw), and pays homage through the artwork to the community benefiting from the new skatepark, while alluding to endemic skateboarding culture.
Artist's statement:
"When Ginew reached out to me I was stoked to be a part of the project! I grew up in different small towns in Oklahoma and there were zero skate parks, so the 15 year old me is freaking out knowing that I get to be a small part of helping to bring this skatepark to life. The design of the tee and bandana is a nod to the skate brands of the 90s and my memories of skating back then. I didn't have a board from the big brands, but I knew who they were. Also, I wanted to make a design cool enough for anyone to want to wear, and that people will still want to wear even after this skatepark is built." ~ Steven Paul Judd

About the Artist:
Màutáñ Steven Paul Judd is a Kiowa/Choctaw from Oklahoma. He's an artist, screenwriter, film maker and visualist. His innovative approach provides a glimpse into a world that is familiar to the underrepresented first peoples of the nation and  simultaneously brings about fresh perspectives and understanding among the non-native community through humor. 
A prolific visualist whose mash-ups of Native experiences and disposable American pop culture are sly and often downright funny. 

He was the recipient of the Hatch USA Artist Fellowship and has sold and written screenplays for HBO, Netflix, Marvel and Disney.

About the Riders:
The project of rebuilding the Warm Springs skatepark with the Skatepark Project was spearheaded by input from Tactics team riders Daquon Cassaway and Nacho Ponce who both grew up skating the Warm Springs skatepark and are members of the Confederated Tribes of Warm Springs. They will continue to be integral to the process of this rebuild and the support of the Warm Springs skateboarding community.
All photos of Daquon Cassaway riding for Tactics by Nick Gannaway
Proceeds support a re-designed skatepark on the Warm Springs Indian Reservation. 
Materials
100% cotton

Made in the USA

Printed in Portland, OR

Unisex sizing 

Wear with Spirit

Also Available: Warm Springs Skatepark Bandana
If these sell out, they are also available at Tactics.
Size Chart
Flat lay measurements - not circumference. 1 inch = 2.54 centimeters. 
| | | | | | |
| --- | --- | --- | --- | --- | --- |
| Tees | Body length | Body width | Neck opening | Bottom opening | Sleeve opening |
| XSmall | 27" | 16.5" | 4.5" | 16.5" | 5.75" |
| Small | 28" | 18" | 5" | 17.5" | 6" |
| Medium | 29" | 20" | 5.5" | 20" | 6.75" |
| Large | 30" | 22" | 6.5" | 22" | 7" |
| XLarge | 31" | 24" | 6.75" | 24" | 7.5" |
| XXLarge | 32" | 26" | 6.75" | 24" | 7.5" |
| 2XLarge | 33" | 27.5" | 6.75" | 24" | 7.5" |